It's such a simple thing, but painted and hidden for someone's enjoyment changes a rock into a gift for both the one hiding it and the one who finds it.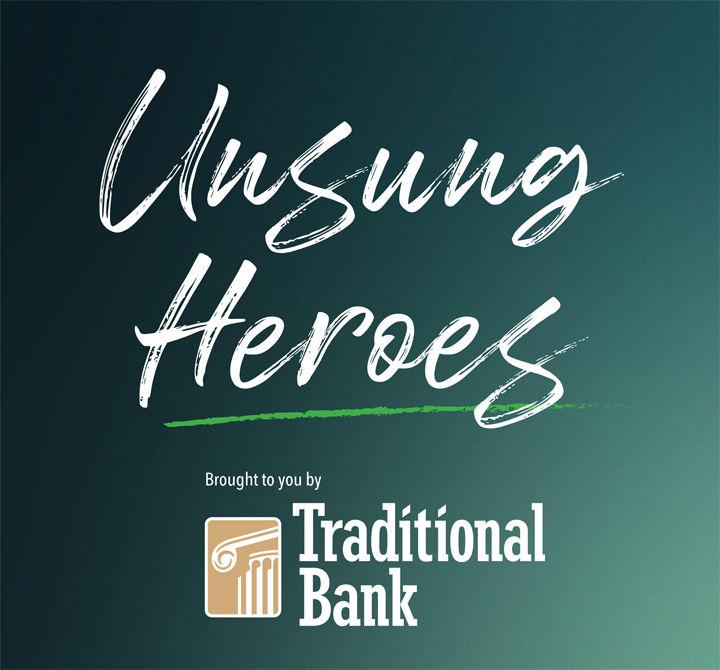 Paula Cox Wylie and Laurie Murphy are both active rock painters and are members of the Frankfort KY Rocks Facebook group. Murphy is also part of the shelbykyrocks Facebook page.
They are this week's Traditional Bank Unsung Heroes.
"This hobby brings me joy, peace and stress relief in the painting," Murphy said. "It allows me to be creative without judgment. As I tell others, it is all about the heart, not the art. 
"When you paint kindness rocks and then leave them for a stranger to find, you are sharing part of yourself with another individual in the hopes that it will brighten their day, lift their spirits, bring a smile to their face."
Neither woman has been painting rocks for long, but they've been prolific.
Murphy took up the hobby in February 2020 and estimates she's painted well over 3,000 rocks.
"I had seen a suggested page pop up on Facebook for a different group and I thought it was just a 'local events' type group so I joined it, only to discover it was all about painting kindness rocks and leaving them in the community," Murphy said. "In all of my 55 years I had never found one, although I had heard about them, so I thought 'sure, I could do that.'
"My first few were pretty simple, but it was fun and one even got posted so it made me want to paint more. Then COVID hit, the world turned upside down, and it seemed more important than ever to find ways to spread positivity at a time where so many were struggling."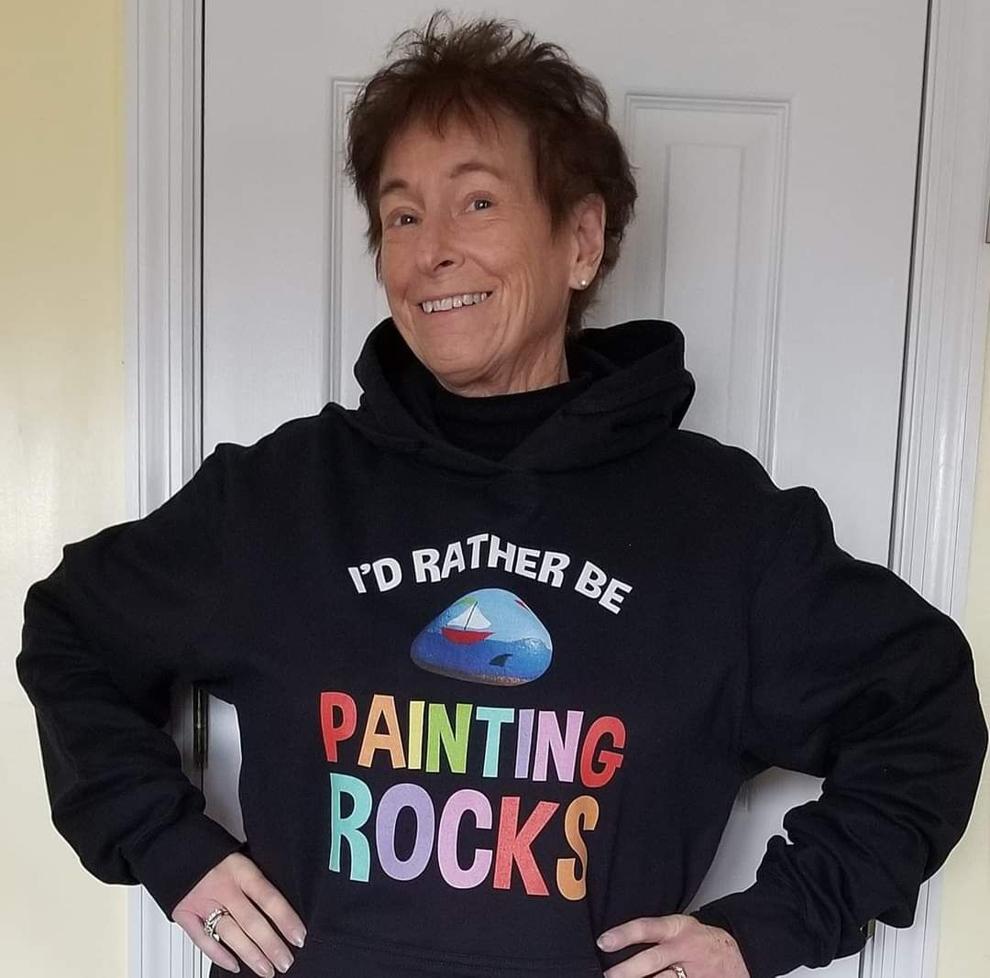 Wylie began painting rocks last year as a project with her daughter and granddaughters as they prepared for a beach vacation.
"We had so much fun hiding the rocks on the beach and watching others get so excited as they found them," she said. "It was such a simple way to make someone happy. Not only one person could be affected by a kind act, but hopefully the finder of the rock would share that positivity with others."
Once she got home, Wylie made a goal to paint and hide at least 10 to 20 rocks a week.
"Painting encouraging, uplifting images and placing them in locations that may bring joy or hope to others has become a passion," she said.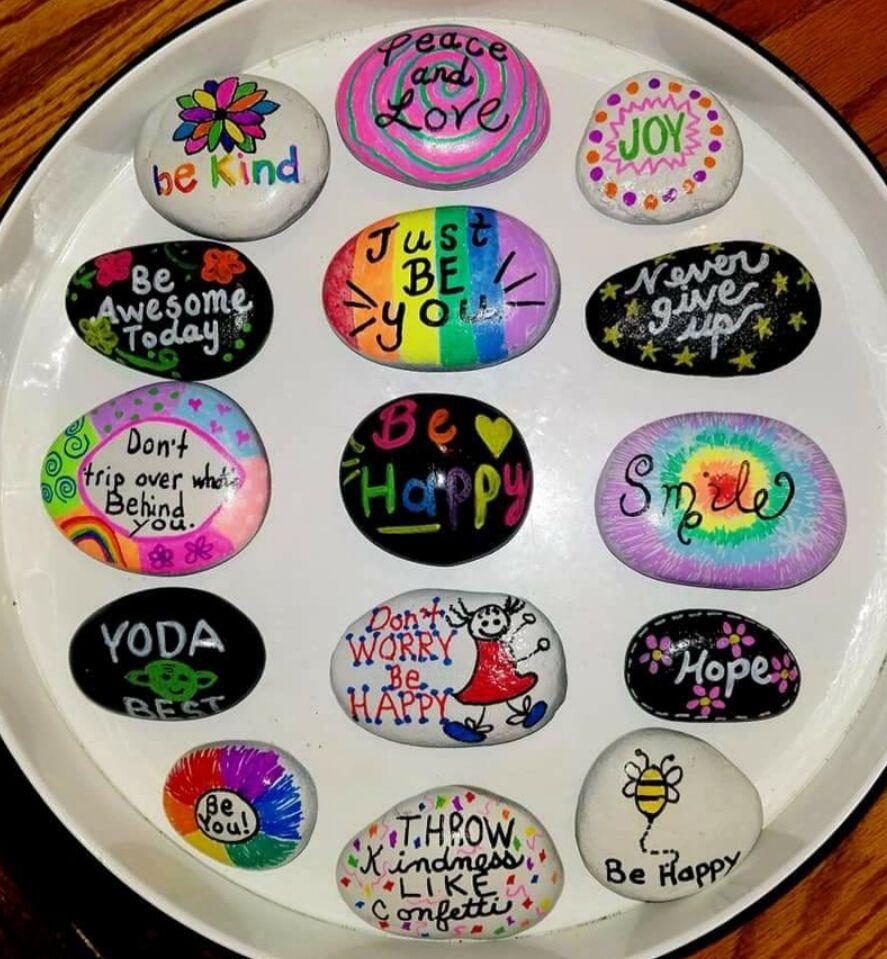 Wylie said she tends to follow a weekly or monthly theme for messages she paints on rocks.
"I also paint and hide rocks of encouragement for teachers near schools, medical workers and those seeking treatment near hospitals and doctor's offices, and rocks for children near playgrounds, parks and shopping entrances," she said.
On the back of each rock Wylie paints it states to keep or hide, and to please post a picture on Facebook at Frankfort KY Rocks.
"It's very cool when someone finds a rock you've painted then posts a pic along with a story," she said. "For example, a person seeking long-term treatment at the hospital found one of my rocks that said 'Be Fierce.' They shared their health story on the Facebook page and expressed how much it meant to them in their journey.
"Because of that, I will always intentionally place encouraging remarks near medical facilities. So many people need a reminder that others care for them or just a word of kindness."
"A single rock can impact many people," she said. "Sure, it may just be for a quick smile, that feeling of winning a prize because you found something unexpected, something one of a kind.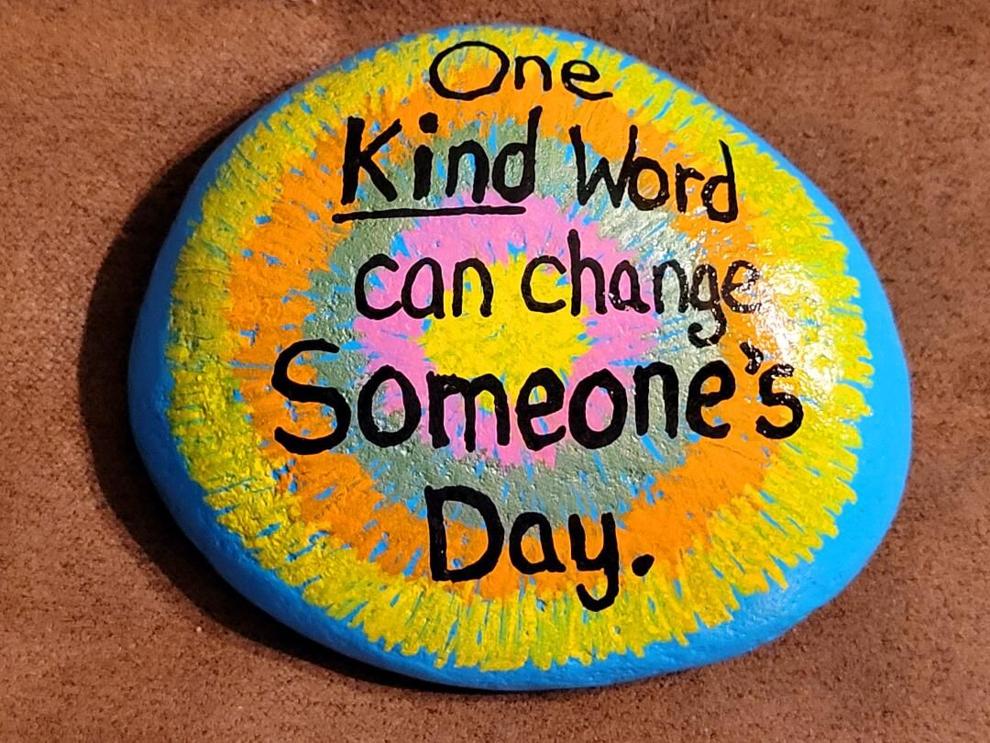 "But don't we all need those moments in our day? Don't we need those little kindnesses to remind us that there are people in our world who care about us, about how we feel? Don't we all need reminding that we are loved and that we matter?