An event that aims to bring together law enforcement officers and citizens will return this August. 
Runners will line up for the Unity Day 5K Race on Saturday, Aug. 3, at Lakeview Park. The race will begin at 8 a.m. and registration will open an hour before. 
Montravius Ferguson, who first organized Unity Day four years ago, said the event is focused on the kids in attendance. Throughout the event, kids can receive a free backpack with school supplies or grab something to eat while interacting with law enforcement officials. Between 200 and 300 kids attended last year's event, he said. 
Most of the event is funded through donations and the race registration fee, which all go back to support Frankfort's kids, Ferguson said. To donate, contact UnityDay5K via the event's page on runsignup.com.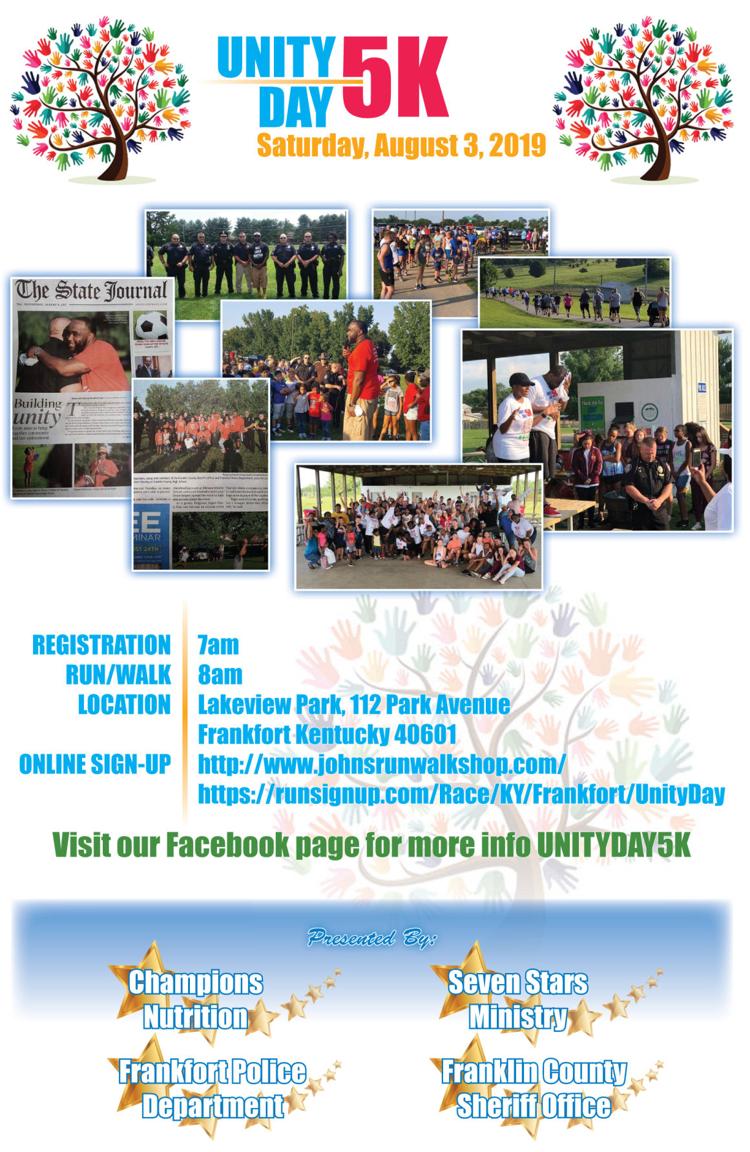 He said that the idea for the event came to him while he was working at his desk in an office. He was reading in the national news about fatal shootings of black men, like Trayvon Martin and Eric Garner, and prayed to find a solution that he could do. 
"I started all this to spread the love of Christ," Ferguson said.
The plan became a reality after he talked with the Frankfort Police Department and the Franklin County's Sheriff's Office.
Ferguson said he wants to continue to grow Unity Day beyond a 5K and make it a movement. He's heard from people in other cities who want to start similar programs and wants to form a Unity Day in Winchester, where he owns a business, and then Lexington and Louisville. 
Ultimately, Ferguson hopes that the governor will declare a Unity Day across the state. 
"I definitely believe that we can make it work," Ferguson said. 
Sheriff Chris Quire said that he previously attended Unity Day when he worked at the Frankfort Police Department and that he will continue to support the event. He added that FCSO will bring an old police car for kids to see as well as T-shirts, bracelets and candy. 
Quire said he is trying to recruit two to three deputies to run in the 5K and that he may run himself. Supporting events like Unity Day is a investment in kids, who are the future of the community, he said. Civic events like Unity Day also help citizens see an approachable side to law enforcement officials. 
"It shows people that we want to be involved in the community," Quire said. 
Register for the Unity Day 5K on runsignup.com for $25 until Aug. 1. Ferguson said that runners may sign up the day of the event, but they won't be guaranteed a T-shirt.