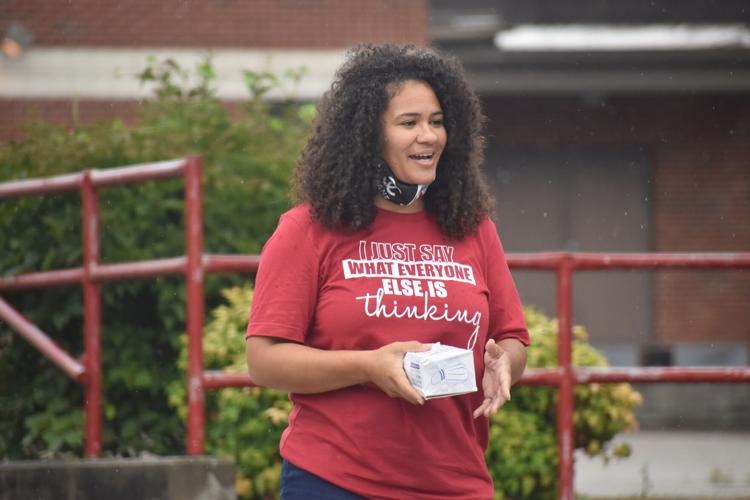 The State Journal, a candidate for city commission and now a sitting commissioner who is running for reelection have all filed open meetings complaints against the Frankfort City Commission. 
Commissioner Katrisha Waldridge is the most recent addition, who filed her open meetings complaint on Friday, two days after candidate Kyle Thompson. The State Journal filed its original complaint on Sep. 28.
Unlike the previous two complaints, Waldridge's challenges an Aug. 10 closed session prior to a vote in open session to fire City Manager Keith Parker. Parker was fired "without cause" in a 3-2 vote, with Waldridge and Commissioner Scott Tippett opposed.
The State Journal's complaint is based on an interview in which Parker divulged that Tippett told him the mayor "had three votes" against him prior to the Aug. 10 meeting, and Thompson's adds a confirmation of that account from Terri Bradshaw, president and CEO of the Kentucky Capital Development Corp. Bradshaw confirmed that claim last week.
That statute exempts "discussions or hearings which might lead to the appointment, discipline, or dismissal of an individual employee."
Waldridge, in her complaint, says that no such discussion happened — even in closed session.
"Upon entering closed session, the discussion immediately turned to the process for dismissing an employee, terms of removal, and severance," Waldridge wrote. "There was no discussion at the Aug. 10 meeting, or in any prior meeting, of discipline or dismissal of any identified or unidentified city employee's conduct."
Waldridge argues that discussions at the closed session centered on the process for Parker's dismissal as opposed to a debate about whether he ought to be dismissed. She has said previously that she believes meetings addressing that question were held outside of the public eye.
Waldridge's complaint asks the commission to acknowledge the alleged violation and conduct a public discussion of the terms of Parker's "dismissal/severance/separation from employment."
Waldridge also suggests as a remedy that the hiring of a new city manager be left to the next commission, which will be elected next month and take office in January.
"This remedy could avoid an expensive payment of a severance package if the new city commission didn't agree with the current commission's decision, which is necessary to represent the taxpayer's best interest."
Since Parker's firing, May and Waldridge have been frequently at odds during commission meetings.
Waldridge helped organize a rally in support of Parker after his firing, and has repeatedly asked the commissioners who voted to fire Parker to provide more information on the decision. May has said that legal counsel has advised him not to comment publicly on Parker's dismissal.
The city's deadline to respond to Waldridge's request is Wednesday. 
Meanwhile, the attorney general's deadline to make a decision on The State Journal's appeal regarding the city's alleged open meetings violation is Monday. Former Assistant Attorney General and open government advocate Amye Bensenhaver said that the deadline cannot be pushed back. The statute allows 10 business days — without exception.
The city's deadline to respond to Thompson's complaint is this Monday.