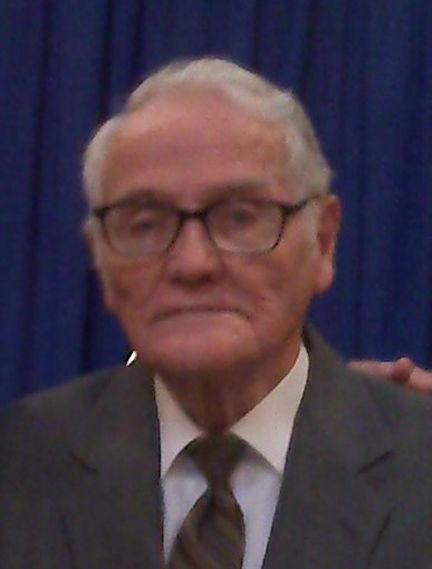 A volunteer, state historian and decorated World War II combat veteran who died last week is being remembered for his "exceptional" contributions to his country, state and community.
Charles "Charlie" Hinds, 96, died Wednesday in Florence. Hinds had a long career in state government related to history and libraries. He was the director of the Kentucky Historical Society from 1960 to 1963, was the inaugural director of the Kentucky Archives and Records Service from 1963 to 1967 and was the state librarian from 1969 to 1979. Hinds was the director of libraries at Murray State University from 1967 to 1969. 
Frankfort lawyer Robert Bullock said Hinds was well known in state government as a "knowledgeable and important person." Bullock was an assistant attorney general during Hinds' service to the commonwealth.
Hinds also became Bullock's Rotary Club sponsor when Bullock joined the group over 30 years ago. Hinds had perfect attendance in Rotary for more than 40 years. 
"This was a wonderful man. He was just exceptional," Bullock said. 
Bullock and Hinds went to the Episcopal Church of the Ascension in Frankfort. Hinds gathered documents related to the church's history and wrote a book about the church, which members frequently reference, Bullock said. 
Hinds served in the Army during World War II. He told The State Journal in a 2011 interview that he was a cavalry scout in Gen. George Patton's 2nd Armored Division and that he was the only original soldier from the company to emerge from the war without having a serious injury or being killed.
Days before the Japanese bombed Pearl Harbor on Dec. 7, 1941, Hinds arrived at Fort Knox. Hinds wrote a book called the "Patton Trooper" about his experience in the war. 
Hinds and his son, Joe, were the first father-and-son duo inducted into the Kentucky Veterans Hall of Fame in 2015. 
In addition to the Rotary Club, Hinds was part of other service groups and was on the honor guard of local Veterans of Foreign Wars Post 4075. 
Hinds grew up in Henderson, but his family moved to Louisville and he attended Valley High School.
Services for Hinds will be held at Harrod Brothers Funeral Home on Wednesday, beginning at 10 a.m. His burial with military honors at Frankfort Cemetery will follow the ceremony. The family with have a visitation at Harrod Brothers on Tuesday from 5 to 8 p.m.
Hinds is survived by his wife of more than 70 years, Doris Hinds; son, Joe Hinds; grandson John Hinds; and great-granddaughters Sarah and Catherine Hinds.