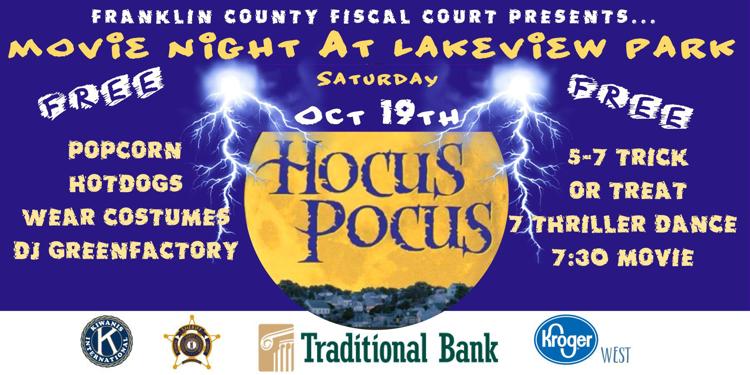 Frankfort and Franklin County residents can watch the Halloween classic "Hocus Pocus" after they learn a dance to Michael Jackson's "Thriller" at Lakeview Park this Saturday. 
The event, which is sponsored by the Franklin County Fiscal Court, is a free family-friendly event beginning at 5 p.m. 
Participants are encouraged to bring lawn chairs, blankets and a bag for trick-or-treating. 
Capital City Dance Studio, the Frankfort School of Ballet and the Kentucky Dance Academy will lead the "Thriller" dance reenactment and practice at the park with help from middle and high school dance team members. 
Popcorn and hot dogs will be provided by members of the Fiscal Court around the Horse Arena. 
Franklin County elected officials will lead trunk-or-treat activities at the arena. The dance practice and performance and the movie will be shown inside the arena. 
Other event sponsors include Kiwanis of Frankfort, the Franklin County Sheriff's Office, Traditional Bank and Kroger West. 
Here's the full schedule for the night: 
Trunk-or-treat with county officials, 5 to 6:30 p.m.
"Thriller" dance reenactment practice, 6:15, 6:30 and 6:45 p.m. Each session is 15 minutes
"Thriller" dance reenactment, 7:05 p.m.
"Hocus Pocus" moving showing, 7:30 p.m. 
Costumes are optional. Only leashed service animals with their vest on will be permitted. There is no rain date for this event.