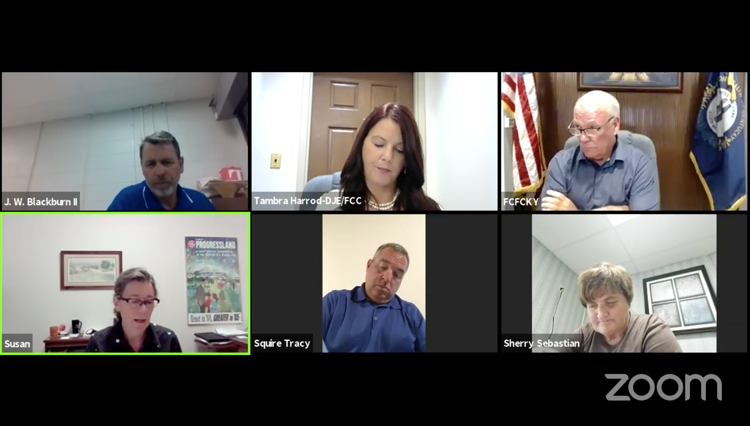 Franklin County Judge-Executive Huston Wells wanted to make one thing very clear at Tuesday night's public hearing on Franklin County's new proposed tax rate: The current proposal is not a raise of county taxes.
The proposed tax rate for this fiscal year is 18.7 cents per $100, which is the same rate as last year. However, because of increased assessed property values, that rate would generate an additional $200,000 in tax revenue for the county.
Only one public comment was received at the hearing, and it was from a citizen complaining about the proposed tax rate versus the compensating tax rate, which is the rate applied to the current year's assessment of taxable property excluding new property that produces approximately the same amount of revenue produced in the preceding year.
"How dare you even think about raising taxes at a time like this?" the comment read. "You should be ashamed of yourselves ... take the compensating rate and stop being so greedy."
The compensating rate would be 18.1 cents per $100 of assessed property value, 0.6 cents lower than the current proposal.
Wells said it doesn't make sense for the county to take the compensating rate when it could keep the tax rate the same and take in more money. 
Under the proposed tax rate, the county would generate $6,306,359 in revenue. With the compensating rate, the county would produce $6,104,016 in revenue.
The fiscal court's finance committee — Wells, Magistrate Sherry Sebastian and Magistrate Marti Booth — first submitted the proposal to keep the same tax rate.
Wells emphasized that the county's growth allows it to keep the tax rate at the same level. He noted that increased revenues are projected because the county's property assessment has risen by nearly $156 million.
County Treasurer Susan Laurenson stressed that the county needs revenue growth to continue providing services to citizens at the current level.
Laurenson cited expenses for the sheriff's office and county employee retirement funding among other financial obligations. 
"Our retirement costs have gone up by over $1 million in five years," Laurenson said, noting that Franklin County is unique in that fire services and related retirement funds are a part of the county's budget.
"We're stressed, as you see in our budget," Wells said. "We're as tight as anybody else on money, and this is an opportunity to not raise taxes … it gives you a whole lot more than (the compensating rate) and it doesn't raise taxes."
Two citizens had entered the "waiting room" to comment on the proposed rate, according to Internet & Technology Coordinator Andrew Tippett.
The two had not registered before the previously stated deadline, according to Tippett. Both citizens appeared to have left the meeting, or were unable to operate the virtual meeting technology, before making comment.
Magistrate J.W. Blackburn appeared to indicate that some in the county were against the proposed tax rate, citing property owners that have struggled due to COVID-19's effect on the economy.
"I had some folks contact me, and there's some significant property owners that could use some relief," Blackburn said. "… They wanted to know if the fiscal court or finance committee had looked at other avenues to create revenue to take care of things like retirement."
Sebastian said Laurenson cautioned the finance committee that she is unsure how long a COVID-19-related financial reprieve on retirement benefits will last, which could cause costs to increase.
"No one at this point has a crystal ball in regard to how that will be levied out since that was kind of set aside this one time," Sebastian said. "She made an extreme note of caution to us in exercising the judgement of the court to how we approach this this year."