"I keep hearing that the delta variant (of COVID-19) is widespread and other comments that indicate every positive (test) is the delta variant," a reader wrote in an email.
"Are they just assuming all positives are the delta variant or are they testing enough samples to make that conclusion?"
Judy Mattingly, director of the Franklin County Health Department, said not all COVID-positive tests are serotyped, a process used to identify distinct variants of the virus.
"…serotyping takes two to three weeks per sample and it would be impossible to type them all," she told The State Journal.
However, according to the latest seroprevalence data from the Centers for Disease Control and Prevention (CDC), 98.8% of U.S. coronavirus cases are the delta variant.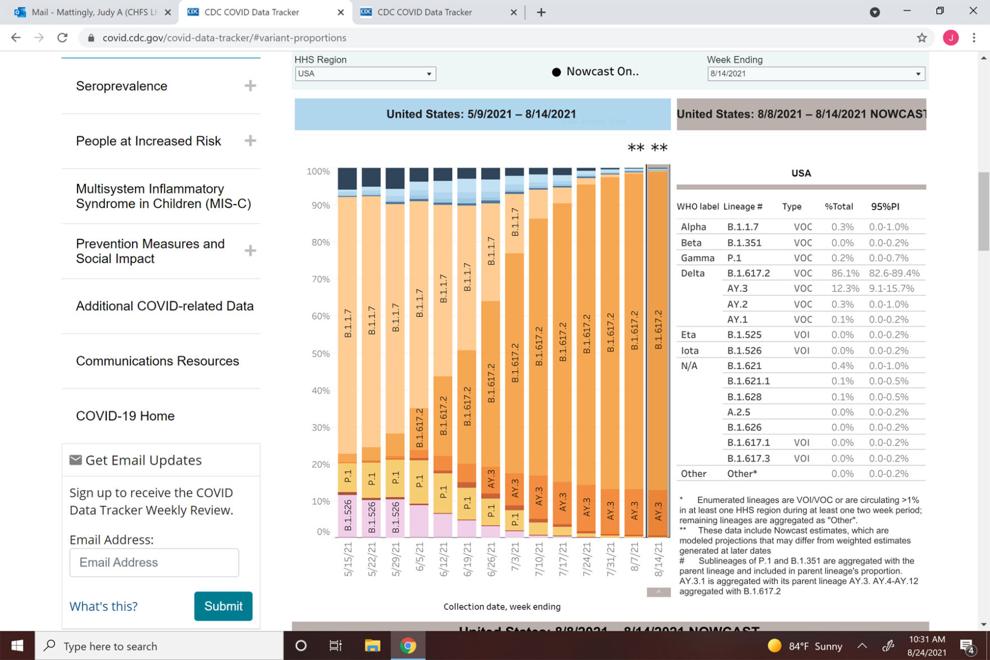 The numbers are similar in Region 4, which includes Kentucky, Alabama, Florida, Georgia, Mississippi, North Carolina, South Carolina and Tennessee, with 98.5% of COVID-19 cases listed as the delta variant.
Mattingly said in Kentucky samples that are serotyped are usually related to a large cluster of linked cases or are from sick patients to try to better understand the severity of their illness.
"Due to the majority of serotyped samples being the delta variant, it is assumed that most cases are now the delta variant," she explained.
The CDC reports that the delta variant is more than twice as contagious as previous variants of the virus and unvaccinated adults who test positive for the delta variant were more likely to be hospitalized.
"We are seeing that the delta variant has a much shorter incubation (meaning that people get sicker faster once exposed) and is impacting a greater number of children than the other variants," Mattingly added.
She also encouraged everyone to wear masks and those who are not vaccinated to discuss their concerns with a trusted medical provider and consider taking the vaccine.
The health department has two vaccination events planned this week. FCHD will be at Frankfort Independent Schools Friday to vaccinate students and staff. The department will also be vaccinating folks at the Franklin County-Western Hills football game Friday night. 
There will also be a Savory & Sweet vaccine event Sept. 7 at DaVinci's Pizza, 805 Louisville Road, from noon-2 p.m. The Pfizer, Johnson & Johnson and Moderna vaccines will be available.
Anyone receiving a vaccine that day may receive a sweet or savory treat by showing their vaccination card at B's Bakery, Hoggy's Ice Cream, Memories Event Venue, Community Que BBQ, Main Street Diner or DaVinci's, which will be giving away 10-inch pepperoni pizzas.