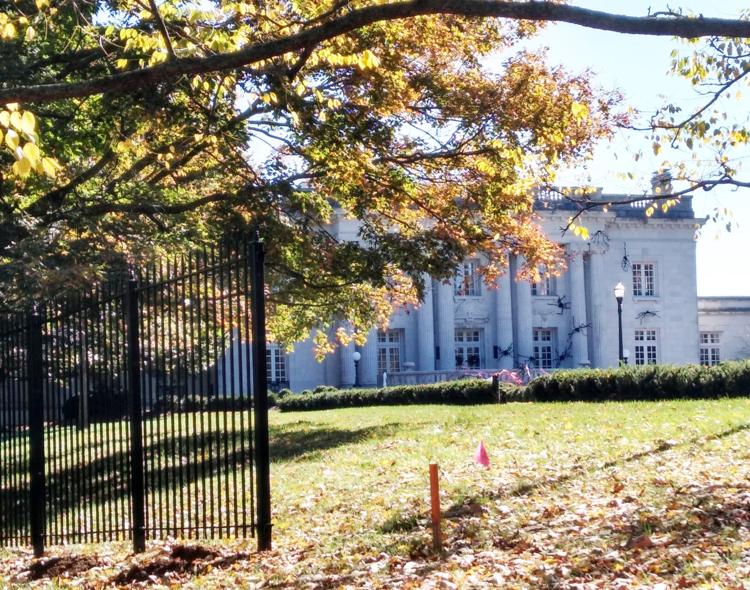 As Gov. Andy Beshear and his family quarantine inside the "People's House" after possibly being exposed to the coronavirus by a driver on Saturday, workers have been busy installing a security fence around the perimeter.
"The construction of the fence is being paid for with private funds provided by the Kentucky Executive Mansion Foundation Inc.," Jill Midkiff, director of communications for the Finance and Administration Cabinet, told The State Journal.
The state solicited for bids on the project and received four, which were opened in late July. The fence work was awarded to Stewart Iron Works LLC out of Erlanger.
Stewart Iron Works LLC bid $87,461 for project's first phase — a security fence in front and partially down one side of the mansion — and $111,740 for an option the state is still considering that would include fencing the remainder of the property.
Installation of the security fence began last week, but Midkiff was unable to give an expected completion date.
"The project timeline is dependent upon favorable fall weather and the absence of other unanticipated obstacles, such as the discovery of subsurface rock that must be excavated," she added.
The black fencing will be 4-5 feet high and "maintain the integrity" of the mansion's exterior.
Kentucky State Police, who are charged with protecting the family, recommended adding the fence after demonstrators — some of whom were armed — marched past security signs and on to the front porch of the mansion, chanting for the governor to come outside following a Second Amendment rights rally on the back Capitol lawn in the spring.
The governor, first lady and their two young children were not at the residence at the time, but that didn't stop Beshear from speaking out about the incident.
"Crossing over barriers, standing on the other side of the glass from where I raise my kids and hanging me in an effigy, that's an action intended to use fear to get their way," he said in the days following the protest.
Kentucky Executive Mansion Foundation Inc. is a nonprofit that assists with restoration, maintenance and preservation of state-owned buildings and places of significant historical importance.
First Lady Britainy Beshear serves as president of the foundation. Lindy Karns is secretary and treasurer. Other members include Brookes Pope, Jim Host, Steve Collins and former First Lady Glenna Bevin.
Erected 106 years ago, the Governor's Mansion is the only remaining executive mansion in the U.S. without security fencing.
Ironically, Kentucky is also the only state where a governor has been assassinated. Gov. William Goebel was shot in the chest on the Old Capitol lawn in 1900 following a disputed election. He died shortly after taking office.