Editor's note: This story was updated at 9 p.m. on April 3 to add that Gibby's is offering family meals for delivery or pick-up.
Here is a list of locally owned restaurants that are offering carryout service during the coronavirus pandemic. The State Journal encourages our readers to place an order and support Frankfort's economy.
Some restaurants are offering delivery, and some have the option of ordering online.
Because circumstances are changing quickly, it might be best to call ahead to be sure the restaurant is open.
Any locally owned restaurants not listed here that are offering takeout or delivery services should contact us at news@state-journal.com to be added.
Arandas: 502-695-4002, curbside service
B's Bakery: 502-699-2222, curbside service
Buddy's: 502-352-2920, curbside, closed Sunday
Casa Fiesta: 502-226-5010, carryout, 11 a.m.-9 p.m.

Chicken Koup: 502-699-2742, carryout, drive-through, Tuesday-Saturday, 11 a.m.-8 p.m., order online at chickenkoupky.com
China Wok: 502-695-9388 or 502-695-6988, curbside, hours 11 a.m.-9:30 p.m. Tuesday-Thursday, 11 a.m.-10 p.m. Friday, 5-10 p.m. Saturday
Cliffside: 502-352-2454, carryout, closed Sunday
DaVinci's: 502-352-1111, carryout window, order online at davincis.pizza
Gibby's: 502-223-4429, open 10:30 a.m.-2:30 p.m. Monday-Saturday, pickups, curbside and delivery. Family meals available for delivery from 2-5 p.m. if customer schedules delivery; family meals may be picked up from 10:30 a.m.-5 p.m.; $30 minimum order for delivery. Online ordering at www.eatatgibbys.com. No online ordering available for family meals.
Ginza: 502-875-7578, carryout, noon-2:30 p.m. lunch; 2:30-8:30 p.m. dinner; closed Sunday
Hoggy's ice Cream: 502-699-2710, curbside, Friday 4 p.m.-9 p.m., Saturday noon-6 p.m. Pints and quarts only, card payment only. Check the store's website for available flavors.
Kentucky Coffeetree Café: 502-875-3009, carryout and curbside pickup
Linney's: 502-875-4685, carryout and curbside
Main St. Diner: 502-682-9195, curbside and delivery, free for orders over $20, 8 a.m.-8 p.m.
Mami Monchita's: 502-699-2380, text 502-802-6571, curbside pickup and delivery, 10 a.m.-2 p.m. and 5-8 p.m.
Marshall's Diner: 502-699-2328, carryout
Melisa's Family Diner: 502-699-2727, curbside pickup, 5 a.m.-2 p.m.
Mi Fiesta: 502-352-2395, carryout and delivery, 11 a.m.-8:30 p.m.
My Guadalajara: 502-696-9164, carryout
Office Pub & Deli: 502-227-9585, carryout 11-8 Monday-Friday, 3-8 Saturday
Pizza Inn: 502-848 2001, carryout, delivery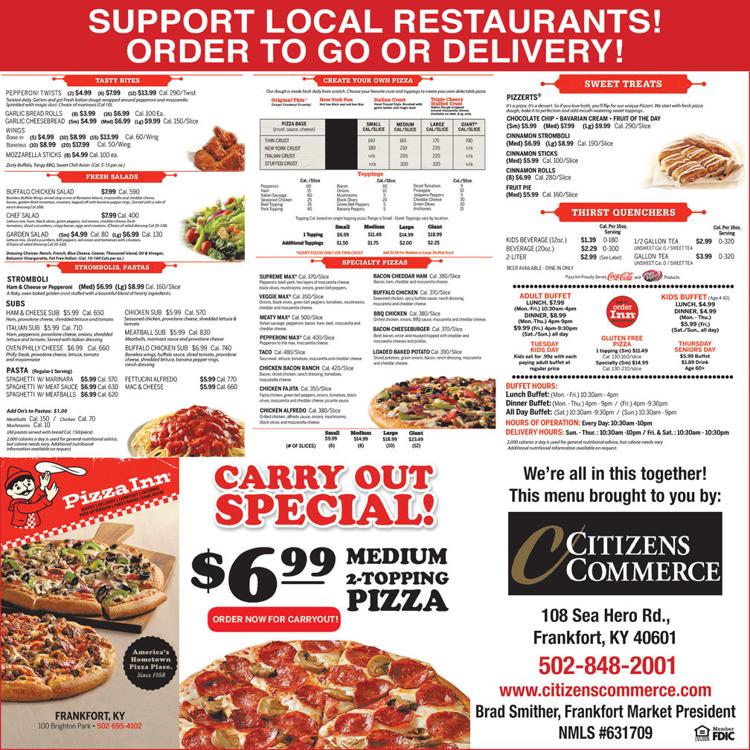 Pop's Diner: 502-319-0165, carryout, curbside, 7:30 a.m.-2 p.m.
Poppy's Bakery: 502-875-5535
Sig Luscher: 502-699-2414, carryout, 11 a.m.-9 p.m.
Staxx BBQ: 502-352-2515, carryout, order online at StaxxBBQ.com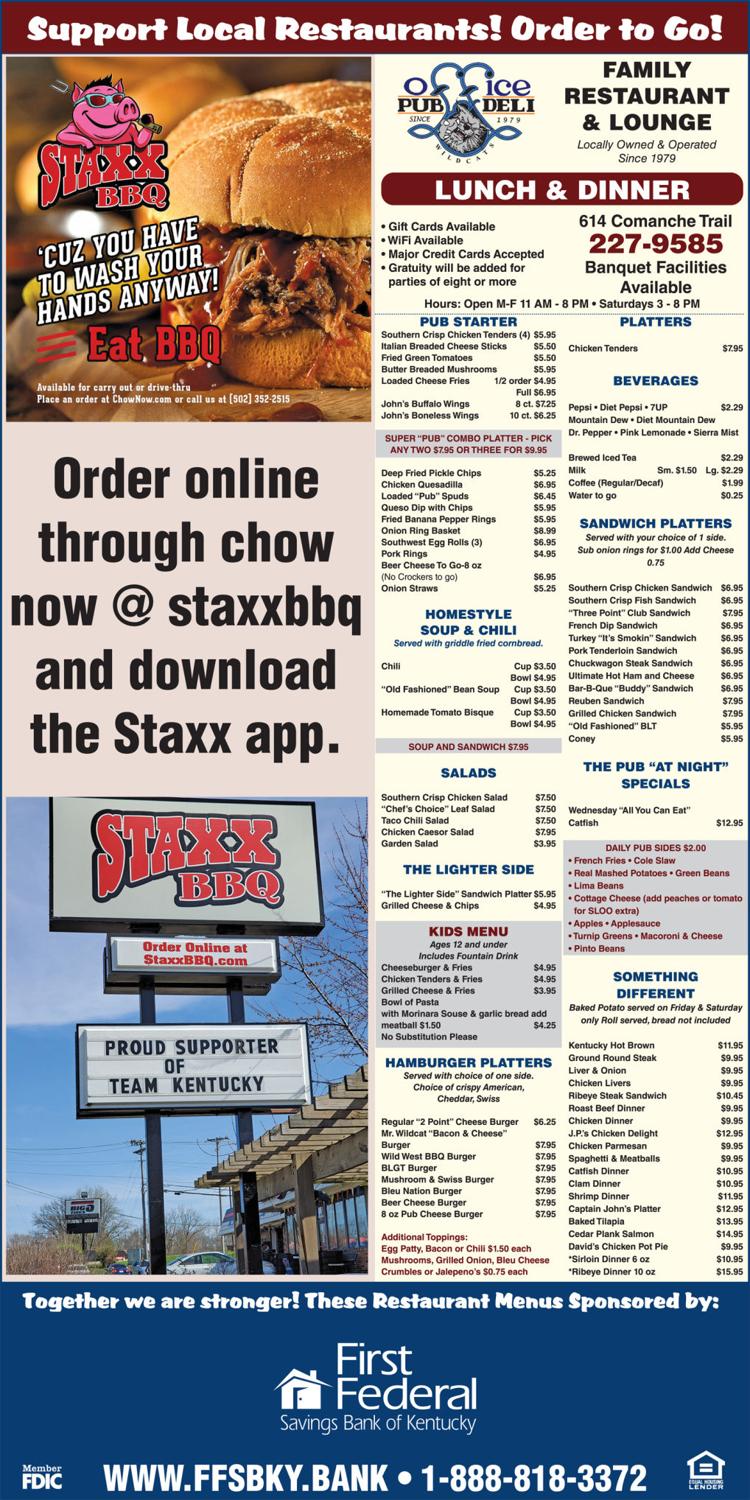 Tammy's Diner: 502-871-5025, curbside pickup, delivery, free for orders $25 or more, delivery fee for orders under $25, now open on Monday
Thai Smile: 502-227-9934, carryout, 11 a.m.-2 p.m. lunch, 4-8 p.m. dinner, Monday-Friday, closed weekends
Trifecta: 502-699-2723, carryout