Jean Miller Whitaker died on April 5, 2021, at her home in Frankfort, Kentucky, a week before her 97th birthday. She was born in Frankfort to Vivian and Beaumont W. Whitaker on April 13, 1924. She graduated from Frankfort High School where she was President of the YMCA Girl Reserves, and in 1945 she graduated from Randolph Macon Women's College in Virginia with a Bachelor's Degree in Chemistry. After college, Jean Whitaker was the first woman to be employed as a chemist by what is now Buffalo Trace Distillery. During her 18 years as a chemist for the distillery she was proud to be invited to be on the Tasting Committee. 
Jean loved to garden and won many ribbons presented by The Garden Club of Frankfort for her flower arrangements and plant specimens. She was an avid golfer and one of the early members of Frankfort Country Club. Jean was a devoted member of The Church of the Ascension, Frankfort, where she served on the Vestry and the Altar Guild and was a Daughter of the King.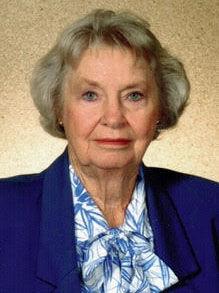 Jean was preceded in death by her parents and her brother and sister-in-law, Beaumont W. Whitaker Jr. and June R. Whitaker. She is survived by her nieces Elizabeth Whitaker Wilson, of Albuquerque, New Mexico, Margaret Whitaker, of Lynchburg, Virginia, and Anne Whitaker of Pawleys Island, South Carolina, as well as her grand-nieces and nephews, Margaret Wilson Broggi, Laura Peterson, Jason Love, Brian Love, Whitaker Smith and Virginia Shapland and their families.

Jean was also predeceased by special cousins William A. Young; wife, Grace; and their son, William A. Young lll. She is survived by cousins, Cynthia Braun and husband, Tom, Melissa
Young, Susie Young and Rosemary Young. 
The family would especially like to thank Glenna, Kathy, Rachael and Mary who were so devoted to Jean's care. 
A graveside service will be held in the Frankfort Cemetery at 2 p.m. on Saturday, April 10, 2021. In lieu of flowers, please make contributions in Jean's memory to the Church of the Ascension or to a charity of your choice. Arrangements are under the direction of Rogers Funeral Home and an online tribute is available at 
rogersfrankfort.com
.