By Meri Latek
I was working at the local radio stations then.  We were located on the 5th floor of the McClure Building and I was writing a commercial when Mike Schillhahn came in and said, "You need to get in the Newsroom now and see this!"
I immediately went into the Newsroom which was the only place with a TV and watched as the first and then the second plane hit the towers. It seemed surreal like it wasn't real.
By that time, everyone was gathered around the single TV in shock.
Then we started hearing about the Pentagon attack and at that point, we were told to go home for the day because everyone knew nothing would be accomplished. I went to a co-worker's home and we spent the remainder of the day watching the developments on her TV. 
By Sheri Bunker
Tuesday, Sept. 11, 2001, started out like any other day in the office here at The State Journal.
At the time we printed daily in-house, and everyone was working to meet deadline to get the paper out. I seem to remember that most of our pages were done and ready for the press.
When we first got word of the attack, everyone gathered in the conference room to see what we could on television. I remember watching in shock seeing the first tower engulfed in smoke and flames, then the second tower being hit.
Never to miss late-breaking news, our news staff watched and waited for the stories to start coming in and redid pages to make sure we had something in print on that day. As the day progressed it seemed like it was just one thing after another as the story unfolded.
Who would have thought that 3,000 plus people would die in such a short amount of time on such a beautiful day? There's been a lot of "big news" in the 35-plus years I've worked here, but memories of that day will never fade.
By Hannah Brown
It must have been shortly after it was made known nationwide that the first plane had struck the World Trade Center that my high school government teacher left the room. The class sat there working on our assignments, but we all noticed the teachers gathering in the hallway quietly talking. 
I couldn't hear what they were saying. After some time had passed, my teacher returned to the room pushing a TV on a cart. He plugged it in and turned on a news station. We saw the World Trade Center with smoke rising from it. After a few minutes, we witnessed the second plane hit the other tower. I remember sitting there with so many questions running through my mind — like I assume most people that day. With so many unknowns as to where the attacks would happen next, school was released early. 
Later, I had heard that the Federal Building in downtown Battle Creek, Michigan — my hometown — had been on a hit list. I'm not sure if there was any truth behind that.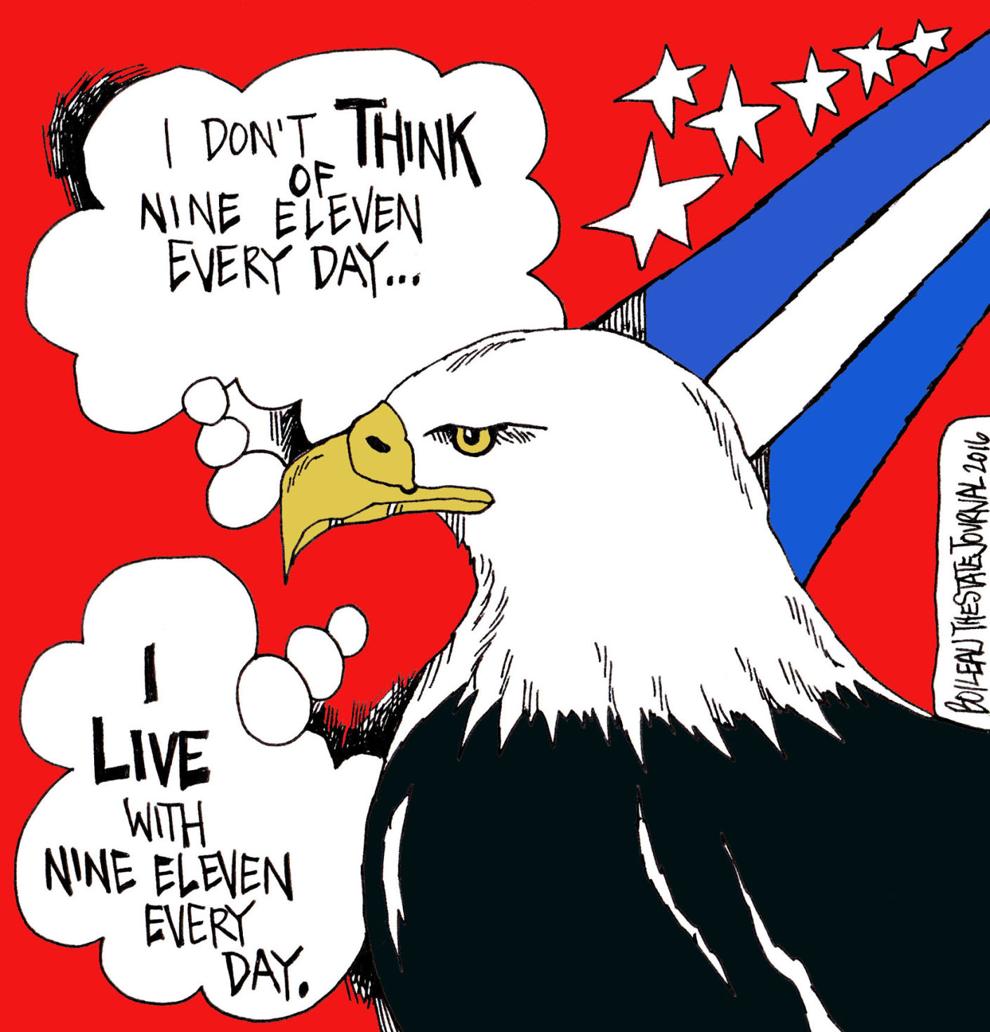 By Linda Younkin
Covering sports for a newspaper usually means late nights and very few early mornings.
That was the case on Sept. 11, 2001.
I'm not a person to watch TV in the morning, so after getting ready for work that day, I got in my car and headed to The State Journal.
On the drive I couldn't find a radio station playing any music, and I eventually settled on a Louisville station that was going through a list of closings that included Oxmoor and the Mall St. Matthews. 
The next bit of news was that no one knew where President George W. Bush was.
All I could think of on the rest of the drive was, "How are malls closing in Louisville and the president's disappearance related?"
I couldn't find out from the radio, but I did the instant I walked into the newsroom.
The television was showing replays of planes flying into the twin towers of the World Trade Center, and colleagues, visibly shaken, were explaining to me what I was seeing.
I still didn't understand. It took a few minutes for the news to sink in, to realize what I was seeing on the television screen had actually happened.
It was terrifying. It still is.
By Chanda Veno
Sept. 11, 2001, was supposed to be an easy Tuesday after a late night putting to bed the Ashland, Ohio, daily newspaper where I was a copy editor.
It was beautiful out and I usually walked or biked to work, but for some reason that morning I drove. When I came in at shortly before 9 a.m. the office was normal. But while I was making a pot of coffee one of the photographers shouted, "Oh my God! A plane hit the World Trade Center!"
The entire office immediately ran into the conference room and turned on the television. Little did we know what we saw when the TV flashed on would forever change the lives of so many people.
We witnessed the second plane crash into the South Tower and instantly knew it was not an accident. I'll never forget the look of shock and horror on everyone's faces both on TV and in the conference room.
It was quickly decided to print a special afternoon edition with the breaking news. I know I left the office to interview people, made phone calls, wrote up stories, helped edit copy and did my job.
But what I remember most was the sound of our news assistant's voice as she called out that another plane struck the Pentagon and a fourth went down in a Pennsylvania field — not far from where my brother was attending college.
I called my parents in western Maryland, who told me my brother and sister — who was teaching at the time — were fine. I'll never forget that sad and terrifying feeling for those who lost loved ones and the awfulness of not knowing what was going to happen next.
By Austin Horn
I do not remember 9/11. I was 4 years old, so it's likely I was more concerned about naptime, what flavor Pop Tarts I'd eat for lunch, or annoying my older brother.
Later it became clear that it wracked the American conscience, particularly its sense of fragility and place in the world. But with the footage I saw on TV of the towers falling at various anniversaries like this one, along with video of the ensuing wars, 9/11 felt abstracted from reality. That is, until I saw a humongous American Flag poster in an older friend's room. The poster was speckled with the names of each victim of the deadly attacks; naturally, I found the one guy with my last name.
Michael Joseph Horn was a 27 year-old software technician for a financial firm. At first glance, he looked a little like my dad. Knowing a few corporate New Yorkers in their mid-twenties, I tried to imagine what his life might have been like: work hard, play hard; aspiring for expensive vacations in exotic places; a yearning to be somebody. 
I was surprised to read today that, like most assumptions we tend to make about people we don't know, I was completely wrong. Horn was a serial practical joker with a wide range of friends. He'd often leave silly phone messages singing songs or putting on accents, according to his obituary.
"He's not one of those guys who wanted to conquer the world — he wanted to enjoy life," said his brother, Charles H. Horn. "He was a good guy with a great heart." 
Horn is just one of some 3,000 dead and 25,000 injured, all complicated humans with families unknowably scarred that day. Learning their stories can help us understand the enormity of the human cost of 9/11, which puts the numbers in context.
By Jim Wainscott
I was here at work up front and remember how nice of a day it was. A customer came in and said a plane had hit the World Trade Center so I got up and walked back to the newsroom. Everyone was in the TV room and right as I stepped in the door is when we all watched the second plane go into the South Tower. I remember there was silence for a moment as everyone processed the fact that this was not an accident.
I also remember that later in the day I had to go to a visitation at the Georgetown funeral home for my aunt who had passed away, and I needed gas in my car but all of the gas stations had lines wrapped all the way around them in both Frankfort and Georgetown.