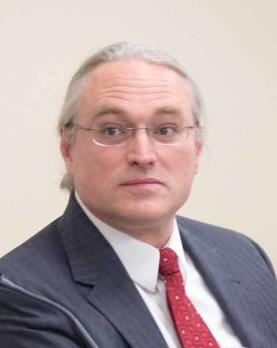 Using the Frankfort Plant Board as an example, the column posed the question and then concluded that advocates for a greener municipal utility are generally at odds with the business community and the interests of middle-class ratepayers who want affordable and reliable electricity. 
I do not subscribe to this sort of thinking and believe the question itself generates unnecessary divisiveness and distracts the community from engaging in a constructive dialogue. There can be economic growth, while also respecting preservation and promoting social and environmental progress. That is to say, there is always common ground between two (or more) groups of perceived antagonists. 
However, Frankfort missed its opportunity to have it both ways. Frankfort could have attracted more economic development if it had maintained local control of its energy supply, which would have resulted in paying millions less for electricity each year. Industrial, commercial and residential ratepayers could have enjoyed substantially lower rates while also reducing hazardous emissions. Frankfort would also have become a more attractive location for new businesses seeking to reduce their carbon footprint. All of this was possible before FPB obligated itself to KyMEA for 20 years. 
Despite this missed opportunity, it is still possible to reach a consensus on the underlying issues in order to move Frankfort forward. To do this, it is helpful to review the publicly available data regarding KyMEA's supply. The vast majority of KyMEA's portfolio is comprised of two 100MW coal contracts: one with the Vistra Joppa coal plant and one with the Big Rivers (BREC) D.B. Wilson coal plant.
Federal data detail BREC's active 2019 capacity contracts and show that the prices for capacity range from $1,091 MW-year to $171,000 MW-year. All can agree that paying closer to $1,091 MW-year for capacity is optimal, which is also the current rate in the MISO market; instead, FPB is obligated to $171,000 MW-year capacity with KyMEA's portfolio.
Not only is Frankfort locked into the highest rate, but the problem is further exacerbated as KyMEA purchased 40MW more capacity than what was needed to serve Frankfort's load. The unneeded capacity alone results in an annual excess cost of $6.8 million, which gets passed down to Frankfort.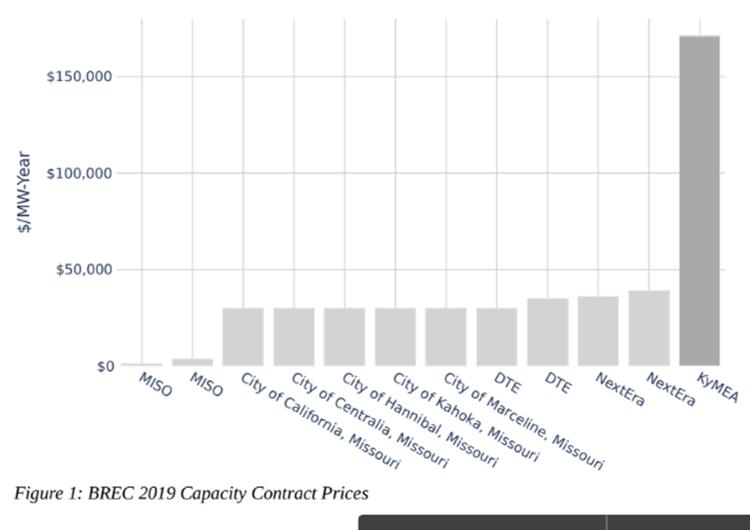 This was the message I tried to communicate, along with Anna Marie Rosen, while serving on the FPB board. The overarching messages outlining KyMEA's deficiencies were: that we will be paying too much for our power, that we are buying too much of that overpriced power, and that we are losing local control of our municipal power supply. Unfortunately, this was never heard over the din of unfounded accusations of wanting to breach the KyMEA contract and impose an "environmental ideologue" agenda. 
A power source that is healthy and low-cost is the optimal choice for all parties. However, due to unnecessary distractions, no prudent fiscal analysis nor responsible fact-based conversation occurred. Instead, KyMEA pushed forward, playing political hardball, and refused to conduct an industry- standard IRP (Integrated Resource Plan).
In an IRP, we could have defined our community's energy needs and then identified the appropriate resources and structure to best meet those needs. This would have ensured that we were not obligated to excess capacity and would have saved the ratepayers millions. 
KyMEA's founding member, Owensboro, did the appropriate planning and conducted its own IRP. When Owensboro officials reviewed the available options, they noted that KyMEA cost more, exposed the community to more risk and would deprive the city of local control. These were the same concerns that Ms. Rosen and I expressed in FPB board meetings. After weighing their options, Owensboro officials ultimately did not purchase electricity from KyMEA, the agency they founded. 
While the lowest-cost option is generally best, the parties, in this case, could have found common ground by balancing cost with environmental impact. Publicly available federal data allow the comparison of the cost of energy produced with coal versus natural gas and the associated emissions from each fuel source.
Figure 2 illustrates the representative costs and actual emissions of the two coal plants in KyMEA's portfolio compared with the TVA Paradise combined cycle natural gas plant. Unfortunately, the publicly available data for the Joppa plant does not contain fuel costs and KyMEA considers the cost data from its power contracts proprietary. However, the Joppa plant's efficiency is comparable to D.B. Wilson, so its costs should be similar. The data show it is possible to have significantly lower emissions and lower-cost power.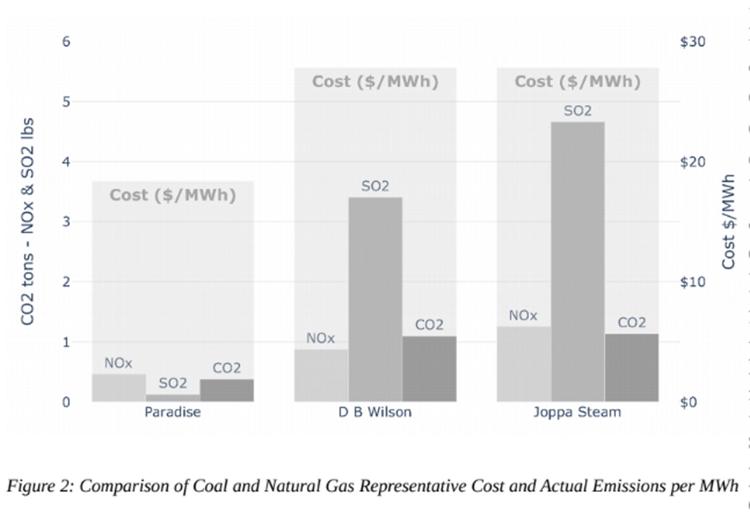 Solar is a zero-emission power source whose price is now on-par with or lower than coal. A portfolio combining solar, natural gas and/or better market access could have been an option for Frankfort that would have produced much lower emissions and costs than those of KyMEA. 
After giving notice to LG&E/KU that it would not renew its power contract, FPB had five years to properly plan for its energy future before beginning service with KyMEA. There was ample time to consider all available options. Some of those options would have led to more savings and a reduced environmental impact. During the five-year notice period, if KyMEA consultants had pursued legislative and administrative changes to allow better market access, the results could have been a game changer for Kentucky municipal customers. 
Community representatives on the FPB, informed by the recognition of Frankfort's common goals, should have made all decisions balancing cost and environmental impact. Instead, these decisions were dictated to us by KyMEA's out-of-state consultants. An IRP was never performed. There was no community input, and no analysis of the economics, risks and associated emissions from all available resource options. 
With its ultimate decision to join KyMEA, Frankfort lost a once-in-a-lifetime opportunity to cut its power cost in half, improve its economic future and reduce its environmental impact. While that moment is lost forever, there is still a window to improve our situation.
In 2022, it is possible for KyMEA to significantly adjust and/or reduce its portfolio. This is an opportunity for improvement that should not be allowed to pass. The decisions that will shape how much value is created for Frankfort are happening now and in the coming months. It is troubling, however, that KyMEA remains focused on its own growth, the construction of new generation facilities, and introducing bills in the 2020 General Assembly that reduce public oversight. 
As we inevitably move forward, if we are to prosper, we must work to find the common ground. We must avoid group-think, resist binary simplistic representations of complex issues, and measure value on its own merits, uncolored by any perceived tribal affiliation of the individuals delivering the message or sounding the alarm. We are all in this together.
Walt Baldwin, of Frankfort, is former vice chair of the Frankfort Plant Board. He can be emailed at wbaldwin@lamancha.world