On June 23, 2018, after returning home from vacation, Angela Cox stopped by her aunt's house in Frankfort. Being the "critter girl" of the family, her aunt suggested she go over to the neighbor's house to see a baby raccoon that the man had found.
"He handed me the baby raccoon and it was like handing me a chunk of ice," Cox said. "She was almost froze to death and hungry."
Cox said the man was giving her 2% milk, which you can't give baby raccoons because they can't digest it. The man wouldn't let her take the raccoon.
"I begged him for the raccoon and he said no," she said. "It was dying out of ignorance."
She got home and couldn't stop crying while thinking about the baby raccoon, so her and her husband, Delmar, drove back to the man's house. This time, he gave her up.
Cox warmed the raccoon in the car and had a bottle of goat milk ready for it. Goat milk can be given to any baby mammal, she said.
"I was even raised on goat milk," Cox said.
For two weeks, Cox nursed the baby raccoon, which she named Buckwheata, back to health.
"I took her everywhere with me," she said. "I didn't think I could save her."
Buckwheata finally became mobile and started to play after a couple of weeks.
"Buckwheata was number 18 that I saved, and realized there wasn't another one like her," Cox said.
Cox raised her like she had the others, with intention to release her back to the wild. But she had imprinted on Cox so much that she wasn't able to care for herself.
"She didn't act like a raccoon," she said. "She slept with me and sucked on my thumb."
Cox and her husband built her a tree house, but she would only play on it with Cox in sight. If Cox went back into the house, Buckwheata would run back to the porch to be let inside.
"I never had one act the way she did. I didn't do anything different with her. She was so attached with me."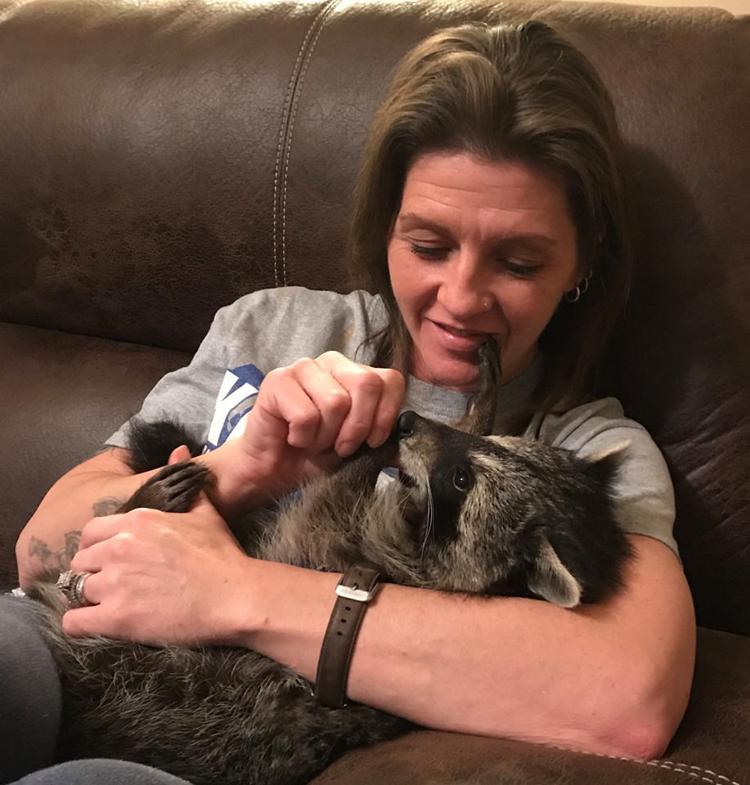 Cox developed a following on Facebook with her posts about Buckwheata.
"People would see me out and say, 'hey, aren't you Buckwheata's mom?' Or, they call me the Raccoon Lady," she said.
In June of last year, they held a Critter Cookout in celebration of Buckwheata's one year rescue birthday. She was expecting maybe 40 people to attend, but 150 people showed up in support of Cox's rehabilitation of Buckwheata. They even had a sheet cake made with Buckwheata's picture on it.
The whole time Cox was nursing Buckwheata back to health, she said she towed the Kentucky Department of Fish and Wildlife (KDFW) laws on a fine line. The only law she broke was putting a collar on her.
Her husband suggested to her that she officially get her license to open up a sanctuary so that she can legally help more animals. So that's what she did.
Last summer, Cox went about getting her certifications to open Critter Ridge Sanctuary at her home on Union Ridge Road in Peaks Mill. She has a license from the International Wildlife Rehabilitation Council and the KDFW. She had to take classes in Bowling Green in order to obtain the licenses.
During baby season last year, which starts in early April, Cox worked to rehab 52 baby raccoons, 17 possums, five fawns, one coyote, several squirrels and a couple of groundhogs in the basement of her home, until she was struck with a tragedy.
Starting Aug. 1, baby raccoons started to die.
"I lost 49 of 52 baby raccoons including Buckwheata to a new strain of parvovirus," she said.
She overnighted blood work to universities all over the country to try to figure out what it was. She wasn't able to find a vaccine geared specifically for raccoons.
"I spent thousands trying to save those babies," she said.
She had two raccoons survive the outbreak.
"When I lost Buckwheata and when I lost the other babies, I thought this is it, I can't do it. It hurts too bad," she said. "I thought I was going to close Critter Ridge, but I thought no, there's not enough rehabbers as there is."
So, this spring, Cox is back at it. She has disinfected her home to rid the virus. The two raccoons that survived live in an enclosure outside where they can't infect other raccoons.
Her husband bought her a 12-foot by 20-foot shed, which they insulated, installed walls, flooring, electricity and heating and cooling where she is currently rehabilitating 37 baby raccoons, two baby groundhogs and a fawn. In an enclosure outside, she has four fox kits.
Cox documents every animal she receives with the story about how she obtained the animal.
People typically contact her through her Critter Ridge Sanctuary Facebook page, but she also receives animals from the humane society, Franklin County Sheriff's Office and other agencies.
When she gets the call, she first asks if the animals' mother is around or if they know what happened to the mother, and if the babies are cold and hungry. She asks people who have found fawns to wait a little bit to see if the mother will come back.
"Give mama time to come back," she said. "Mama hides the babies while they go eat. Deer and bunnies are the most kidnapped babies. Never take the babies if there's a chance mama is there."
If the babies are deemed abandoned, Cox asks that the people bring them to her. It's hard for her to leave the sanctuary because of the care schedule she keeps. Cox performs five feedings each day. She starts about 5 a.m. and doesn't finish until 11 p.m. Each feeding also comes with a change of bedding and puppy pads and cleaning of cages.
When the babies arrive to the sanctuary, Cox deworms them and gives them distemper and parvovirus vaccinations.
Every animal Cox receives typically has a traumatic story. Two of the baby raccoons she has came to her after someone cut a tree down not knowing there was a mother raccoon with her babies in it. The people believed the mother was killed in the incident and were only able to recover the two babies in Cox's care.
Another litter of raccoons came to the sanctuary after the mother was shot simply because the people wanted to have the babies as pets, Cox said. They quickly realized they couldn't care for them.
"I'm a very mild temperate person, unless it's pertaining to animals or kids. I have zero tolerance."
Cox has three older raccoons that live in her basement. Each of them suffers from a handicap and most likely won't be able to be released back into the wild.
One is named Poppy, because she found him behind Poppy's Bakery. He has distemper. Cox nursed him from the brink of death, but he suffers from seizures. The other two are Everly and Landon who were hit by cars. Everly is blind and can't use her hands. Landon has limited mobility of his hands as well.
For the healthy babies in the shed, when they're about two months old and the temperature is warm outside, she will move them into an outdoor enclosure where they will practice climbing and hunting for food. She puts a swimming pool in the enclosure with minnows and crawdads, so they can become familiar with that type of food. She also teaches them to crack eggs.
"In the wild, they're going to find turkey eggs and bird eggs to eat," she said.
At about three months old, she will take them to the creek to practice fishing and hunting for food.
"It's hilarious," she said. "I'm always counting and making sure I don't lose anybody."
At six months old, she has to release the baby raccoons, which is mandated by KDFW — a rule she doesn't necessarily agree with. She said in the wild, raccoons stay with the mother for a year or longer. The other animals, like the kits and fawn can be released, because they tend to not lose their natural instincts.
When she releases the raccoons she does them in groups. She may release two or three litters together. She's also not allowed to release them on her property, so she finds other property owners who will agree to let her release them on their land.
She will often ask those property owners to feed the raccoons dog food if they happen to come by the house looking for food. They typically agree to do so.
"It's gut wrenching when I have to say goodbye," she said. "But, the whole purpose of rehabbing is to give them a chance at life."
Cox is always looking for donations. She said they're currently working on building a new enclosure and could use donations of building supplies and volunteers to help build it.
She also is always in need of supplies such as formula, puppy chow, eggs, baby food, puppy pads, old towels and blankets. Cox is self-funded and said during baby season she sees a significant increase in her electricity and water bills.
She accepts monetary donations through her Pay Pal account, which can be found on the sanctuary Facebook page.
When asked why it is she rehabs the animals, she said the answer is simple, "how can I not?"
"By the time these little guys get to me, I'm their last chance," she said. "I'm their only hope. They're at the end of their rope. I'm their last chance to live.
"I know what my purpose in life is."
If you find an animal in the wild that needs rehabilitation, contact Cox through the sanctuary's Facebook page or by calling 502-750-0773.