A couple of years ago, when my daughter got selected to represent our commonwealth of Kentucky at the National History Day (NHD) contest for her video documentary on women's rights, we visited legislative and judicial buildings in Washington, D.C.
At that time, I wanted to meet Mr. John Lewis, but our nonstop tour arranged by the Kentucky Historical Society included a prescheduled meeting with members of Kentucky's congressional delegation: U.S. Sens. Mitch McConnell and Rand Paul and U.S. Rep. Andy Barr.
We took pictures and had a conversation with them, but my wish to meet the icon was fulfilled only a year later, when I met Mr. John Lewis face to face. I was so honored. Not just because I met a living legend of the civil rights movement, but because of the words he spoke to me.
Mr. John Lewis asked me, "How are you, brother?" He signed the picture I showed to him, and looked at me with a smile so great I haven't forgotten it to date. I told Mr. Lewis that I took this photo with an image of Dr. Martin Luther King Jr. at Tuskegee College.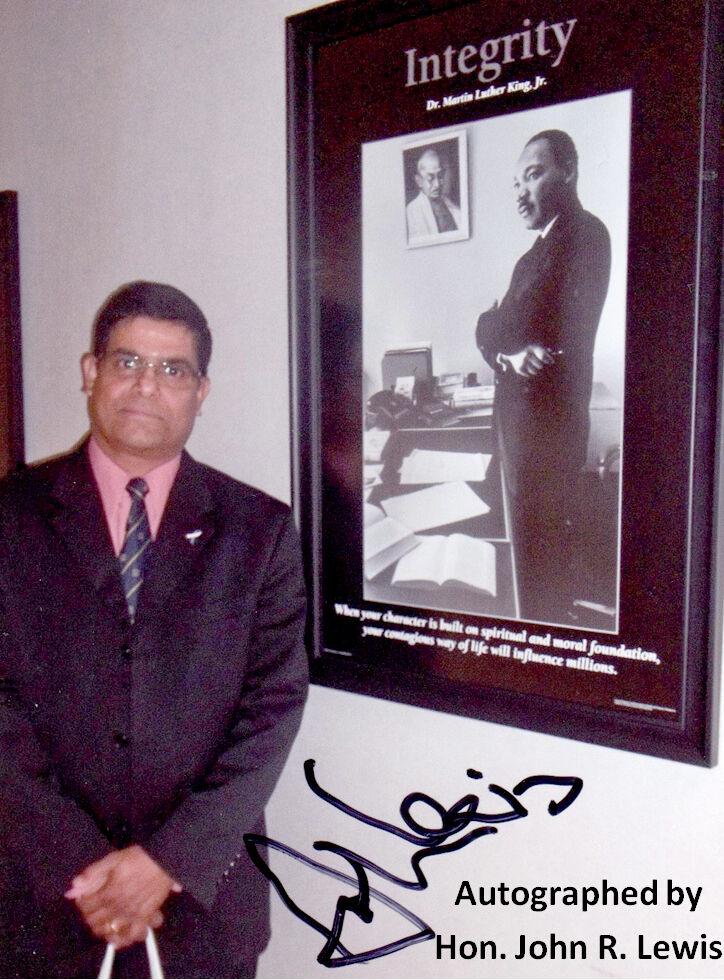 He said, while patting me on the back, "Keep up the good work, brother, we need you." I was humbled at his politeness and felt the power of his mere presence.
I never met MLK or Gandhi, but having a conversation with John Lewis left an impact on me that I feel a meeting with either of them may have too. Like him, I follow Gandhian principles and feel a fulfillment in working at Kentucky State University.
John Robert Lewis was born in Alabama on Feb. 21,1940. He grew up very poor in rural Alabama. When he was 16, he was denied entrance into a public library because of his color, a societal norm at the time. This incident changed the course of his future career.
Mr. Lewis felt the spark against segregation after hearing MLK's sermons in 1955-1956. At the very young age of 23 he spoke at the 1963 March on Washington. The Montgomery bus boycott pushed him to be actively involved against injustice.
Like MLK, Mr. Lewis was also admired by Mahatma Gandhi's' nonviolence movement. Mr. Lewis not only advocated for it, but he practiced it for the next 60 years, starting from the Freedom Rides of 1961. Since then, he was arrested approximately 40 times for his civil rights activism, including his nonviolence action against the segregated facilities in bus terminals.
Mr. John Lewis witnessed the Civil Rights Act become law in 1964 and the Voting Rights Act become law in 1965. After he became the director of the Voter Education Project, he helped to register millions of minority voters in the 1970s. This powerful political move built a strong foundation for President Barack Obama to win the presidency two decades later in 2008.
When Mr. Lewis became a congressman in 1986, his non-violence approach became more prominent through his legislative actions. His legislative role in voting rights, health care reform, minority education, women's rights, fighting poverty, gun violence and brutality of any kind are just a few of his achievements beyond his role in the civil rights movement in the 1960s.
Mr. Lewis once said, "We have been too quiet for too long." Now, in this difficult circumstance, we need to think about his call for unity and work in nonviolence. In 1963, he said, "We all recognize the fact that if any radical social, political and economic changes are to take place in our society, the people, the masses, must bring them about."
We need to remember what he said: "There comes a time when you have to say something. You have to make a little noise. You have to move your feet. This is the time."
Now, in 2020, the call he made in 1963 has reached all parts of our nation and beyond. Who can forget his words, "We are one people. We are one family. We are one house."
He received the Presidential Medal of Freedom in 2011 and many more, including NAACP's Spingarn Medal. In December, he was diagnosed with Stage 4 pancreatic cancer and passed away on Friday, July 17.
Though we lost an icon of civil rights movement, his legacy will live forever in the hearts and minds of generations to come. A big thanks and my heartfelt salute to this nonviolence giant who dedicated his life for civil rights movements in this country.